That One Bug Game: The Light of Roggenburg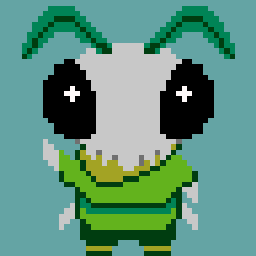 FACT SHEET
Developer Marty Kovach
Release Date 30 November 2018
Platforms Windows / Mac
Price Free!
DESCRIPTION
Follow the story of wandering moth named Lunaire. After several days of travel he comes across a stretch of coastline not found on any map. From the top of the cliffs he sees a town off in the distance along the water.

FEATURES
A JRPG inspired by the Dragon Quest/ Dragon Warrior games!
Complete it in one sitting!
Unlock a stupidly overpowered move at level 10!
It's full of bugs! Literally, every character is an invertebrate!
One dead meme!
ABOUT THE GAME
The premise of That One Bug Game started out as an #inktober 2018 project, but while planning out my thumbnails I ran into a problem. I wasn't having fun with it. Then I came across the devtober hashtag on Twitter and decided to do that instead. My goal with this game was to tell a story set in my bug world, and hone my pixel art skills. There are 3 reasons I chose to use RPG Maker MV for this game.

Now after 2 months of development it is finally ready for release! Additionally it has been balanced on the more forgiving side of things, as this is also a short easily digestible experience! Not everything has to be 60+ plus hours!
ABOUT ME

I am indie game developer living in the Pacific North West! I started learning how to make games in the winter of 2017 while attending a code school, but nothing really saw the light of day until 2018! I have been been an active participant in several jams and collabs in the Bitsy community, along with the Summer Slow Jams hosted by PIGSquad!

Outside of the sphere of game development, I write stories, create worlds, draw, and sometimes make up stupid musical jingles about really stupid things. There is always some creative project I am working on!
CREDITS

For a wide variety of plugins that improve the core RPG Maker library!

Yanfly:
YEP_CoreEngine
YEP_BattleEngineCore
YEP_SkillCore
YEP_MessageCore
YEP_X_VisualHpGuage
YEP_RegionRestrictionsMade

HIME_ActorBattleCommands: Himeworks
OrangeOverlay V.1.1.2: Hudell
Yami_SkipTitle:Yami
RPG MAKER MV Core Engine: Kadokawa Corporation, Yoji Ojima
Music and Sounds from the RPG Maker MV Core Library

Humble Fantasy Fonts: Eeve Somepx

UFO50 Color Palette: @mossmouth and @strotchy

QA: Bamfy bamfqualitytesting@gmail.com
Design, Development, Art, Writing: ME!
Presskit Template by:@alexvscoding
Download
Click download now to get access to the following files: